Services
Planning, Design and Construction Services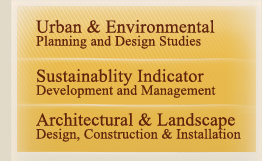 Sustainable Life Designs (SLD) provides planning, design and construction services for every aspect of a project - from initial conception and project feasibility to inspection and delivery of completed work.
Our areas of expertise include; urban and environmental planning and design studies; sustainability indicator development and management; architectural and landscape design, construction and installation. We are available to assist you in any of the following areas:
| | |
| --- | --- |
| Phase 1 | Normally comprised of two parts, Phase I includes a feasibility study and schematic, or conceptual, design. The feasibility study helps clarify what you want and provides a cost projection for the project. Research is then conducted to identify technical issues pertinent to the project and identifies potential obstacles & solutions. A report is prepared - with maps, analysis and measured drawings as needed. Schematic design is the development of different design options along with an analysis of their strengths and weaknesses. At the end of this stage, you choose one or more of the designs to develop further. |
| Phase II | Phase II has two parts; design development and final report delivery or construction documentation. During the design development phase, we explore and develop your chosen schematic design and produce additional scaled drawings - and models if desired. Construction documentation provides a final set of drawings with specifications suitable for obtaining construction / fabrication bids and securing any permits that may be required. A final report is delivered in the case of planning projects, with specific goals and targets for implementation. |
| Phase III | Phase III is the actual implementation or construction process. SLD can provide project management services, construction administration or act as the general contractor depending on the type of project and your needs |
| Contract Rates | We bill our services at the following hourly rates: $85 for Senior Planner / Landscape Designer / Project Manager; $65.00 per hour for design work, drafting also bid your project as a percentage of the construction cost or as a fixed price. Engineering, consultant fees and expenses - such as printing, phone calls, and shipping - are billed at cost plus 10%. |
We look forward to providing you with exceptional planning, design and construction services.
Click here to download a PDF description of our services.